A few days ago, I posted a review for Beach Street Knitting Society and Yarn Club by Gil McNeil. Today, I am sharing with you my review of the sequel,
Needles and Pearl
s.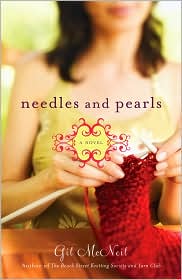 You start out the read with all the same characters as you met and grew to love in Beach Street, but you find out more and more about them as this novel moves along. Some you grow to hate, some you grow to love even more. You get to watch the development of new babies, and the beginning of new romances, and new life.
It's hard to do a review without giving away key plot points, and I usually don't like spoilers, especially not from books, so I'll cut this down. Read it, after you read Beach Street. It's a great Knit Lit, and will most definitely be added to my permanent book shelf.